10 WHAT OTHER REASONS
to spend your vacation in Oberstdorf
Download
Adobe PDF 421,84 kB
Angelegt am 08/09/2018
"Obheiter" Standing above everything.
Do you know how it feels to stand above everything?
In Oberstdorf, on an "Obheiter" day, you experience a feeling of unlimited freedom.
You can enjoy a breathtaking view of over 400 mountain peaks that rise above a sea of clouds.
The color- magic of nature
Do you know the impressive colors of nature?
In Oberstdorf you will not believe your eyes. Experience a true color explosion consisting of:
Alpine - Rose magenta, Bavarian Gentian- blue and Edelweiss- white.
Summer freshness: Hot days - cool nights
Do you toss and turn in bed on a hot, humid sleepless night?
In Oberstdorf the nights are cool and relaxing-even after a hot summer
day.
"Beloved" tradition Custom
Do you wonder if you can experience tradition and a real homely feeling while on vacation?
In Oberstdorf you can! We have village festivals, folklore evenings, a festival when the cattle
descend from the Alps and many more occasions with traditional catering and clothing.
Village cattle: A friendly meeting
Are you tired of stressed faces while shopping or taking a walk?
In Oberstdorf you don´t only see beautiful lanes and satisfied faces-
you also have the luck of meeting our "local friends".
Water and fresh air for rosy cheeks
Would you like a healthy complexion? And this without make-up?
In Oberstdorf the pure air and crystal clear water with mineral qualities ensures a healthy, glowing complexion.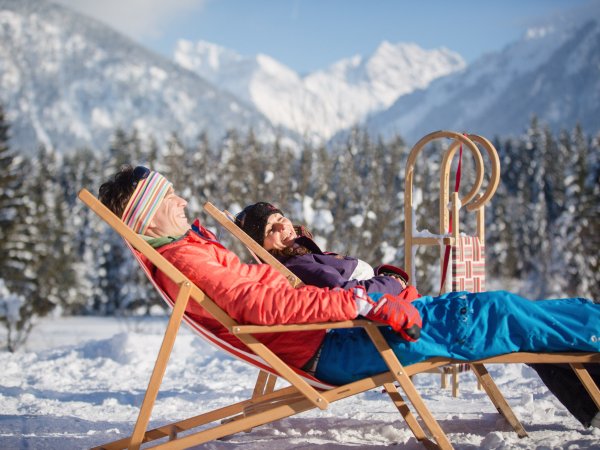 Sunbathing at sub-zero temepratures
Do you think winter and deck chairs don´t match?
In Oberstdorf they certainly do! Through the reflexion of the snow you will tan even faster while sunbathing.
The "Big Five" of The Alps
When was the last time you went on a "photo-safari"?
In Oberstdorf you can expect to see the "Big Five" of the Alps. With a bit of luck you will find alpine ibex, alpine chamois, deer, eagles and marmots. Don´t forget your camera!
Sparkling heavenly stars
When was the last time you saw a star-studded sky?
In Oberstdorf you can allow yourself to be enchanted by a glittering firmament on most clear nights.
Pure romance…..
Milk and cheese -from "happy cows"
Did you know that our aromatic cheese gives a taste comparable to non-other?
In Oberstdorf the farmers make their cattle happy and satisfied, only by offering them a beautiful view and 70 different herbs to graze on.