Whether by road bike, mountain bike, e-bike or trekking bike – there's a route for everyone in the enticing area around Oberstdorf.
In Summer 2016, Tourismus Oberstdorf launched its "Zämed duss" ("Sharing the outdoors") campaign, with the aim of encouraging hikers and cyclists to treat one another with respect and tolerance on the trails used by both groups and of promoting a sustainable approach to
nature.
With this in mind, Tourismus Oberstdorf has now developed a new "Zämed duss" cycling map, which offers the perfect guide for those who cycle as a sport or for recreation, as well as for users of e-bikes. The map lists 19 cycling routes and route variants that have been developed for the area around Oberstdorf and its districts, including route descriptions, distances in kilometres, difficulty levels and elevation profiles.
In addition to a detailed map, an elevation profile is provided for each tour, as well as information about trail conditions (see the example below of the route that takes you into the Stillachtal Valley).
The map is available at all Tourist Information Offices in Oberstdorf and in our online shop for € 6.90 (plus postage).
For tour options Radeln & Biken - on our German website
Zämed duss
The "Zämed duss" ("Sharing the outdoors") campaign encourages people to treat one another with respect. It also aims to remind people that they are all outside for the same reason: to enjoy nature.
There are plenty of places for potential conflicts: a mountain biker might zoom past a hiker far too quickly without proper warning, a hiker might amble along the middle of a trail without heeding other route users or someone might simply be having a bad day. There are many reasons for disputes between cyclists and walkers but both can make the effort to share the great outdoors in peaceful harmony.
The recipe for doing so is simple:
Pay attention
Be friendly
Give hikers the right of way
Protect nature
Keep to marked trails
After all, we all want to share the outdoors for as long
as possible.
Bike hire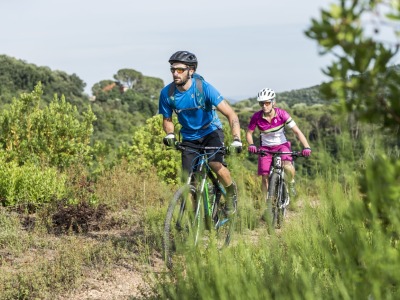 Die Berge auf dem Mountainbike erleben. Kein Problem mit dem richtigen Bike!
Nebelhornstraße 67e
Tel. 08322 989 601
Von Mai bis Oktober am Bahnhofsplatz
Bahnhofsplatz 1 a
Tel. 08322 952 90